Kuuma on taas ollut... ei kiva!!!! Nythän on syksy, joten pitäisi olla jo viileämpää. pläääh! No, päätin että pitänee kuitenkin yrittää vähän taas skräpätä vaikka se on ollut tosi vaikeaa jo jonkin aikaa! En muuten vieläkään erityisemmin tykkää tuosta edellisestä leiskasta vaikka olen joka päivä yrittänyt katsoa sitä tuorein silmin. No, ehkä sen kanssa menee vähän pitempään :).
It has been hot again... NOT GOOD!!! It is Autumn now, so I want some cooler weather. sigh. Oh well, I decided to try to scrap a bit again even though I have been struggling for a while already! I must say that I still don't really like that previous layout. I have tried to look at it everyday, but no. Oh well, maybe it will just take longer to learn to like it :).
Scraproomin keskustelupalstalla on joka kuukausi tosi kivoja haasteita. Tällä kertaa oli laitettu yhdeksi haasteeksi skräpistää jonkun baristan (siis, scraproomin design team jäsenen) leiska maaliskuun
idea galleriasta
. Olin tykästynyt yhteen leiskaan siellä joten päätin kokeilla skräpistystä. Ok, se ei ole minun juttu ollenkaan... oli nimittäin tosi vaikeaa! Tykkään tehdä luonnoksien pohjalta leiskoja mutta skräpistys on minusta vaikeampaa. No, kuitenkin. Tässä UPEA Jenny Mooren leiska:
If you haven't been to scraproom forums, you should as each month there are many wonderful challenges. This month one of them was to scraplift a layout by one of the baristas (ie. scraproom design team) from the March
ideas gallery
. I really liked one of the layouts (well, they are all gorgeous!!!) and thought I would try to scraplift it. Ok, scraplifting layouts is not my thing.. I found it very difficult to do! I like using sketches to make layouts, but lifting.. nope. anyway, here is the GORGEOUS layout by Jenny Moore: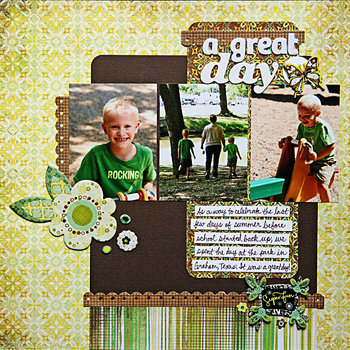 Eikö olekin aivan ihana? Voi hitsi että tykkään tästä.
Isn't it beautiful? I like it so much.
Ja tässä sitten minun skräpistysleiska:
And here is my lift:
Että sellaista :). Käytin vanhempaa October Afternoonin sarjaa tähän. Oli kiva saada käytettyä vanhempia papereita vaihteeksi kun niitä on niin paljon! Kirjaimet ovat Queen&co ja jalokivet Doodlebug.
So, that's it. I used an older October afternoon range for this one. It was great to get use some older papers for a change as I still have soooooo much stuff! The letters are by Queen&co and the gems by Doodlebug.
Äiti, jos et ole nähnyt vielä näitä kuvia, niin äkkiä facebookiin katsomaan :). Laitoin sinne muutaman.