Ja taas uusi pakki käyttöön! minun pakkilaatikko on kyllä niin täynnä että ihan hirvittää. Pitäisi skräpätä TOSI ahkerasti että saisi vähän tehtyä vähän tilaa sinne koska kohta tulee taas uudet pakit. apua!
Minusta on ihana kun joidenkin pakkien kanssa tulee pakkaus Thickersejä! Tässä pakissa oli siis American Craftsin Blue Skies sarjaa. NAM, mitkä värit ja printit!
And using a new kit again! My kit box is super overflowing... I really need to do some serious scrapping so that I can make some space in the box as the new kits will arrive this week. eeek! help!
I love it when there is a packet of Thickers with a kit. This kit had American Crafts Blue Skies range. YUMMY! The colours and prints are so pretty!
TÄSTÄ PAKISTA TEHDYT LEISKAT JNE.:
LAYOUTS MADE USING THIS KIT:
Scraproomissa on kuukausittain Got Sketches haaste missä haasteen emäntä postittaa kolme eri luonnosta ja sitten voi osallistua joko tekemällä leiskan niistä kaikista tai vaikka vain yhdestä. Stacey postitti tosi kivat luonnokset ja päätin että yritän tehdä ainakin yhden niistä. Tällainen tuli sitten minun leiskasta. Tosi yksinkertainen. Kiva kun sain skräpättyä sellaiset kuvat mitkä melkein meni jo roskiin. Vähän ensin hirvitti laittaa nuo oranssit aakkoset, mutta eipä ne loppujen lopuksi ole ollenkaan hassummat :). Kuvassa on Mordiallocin laituri.
Every month there is a Got Sketches challenge in scrap room where the host posts three different sketches and you can take part by doing all of them or just one or two. One of the sketches is always a card sketch. Stacey posted really nice ones this time and I decided I would try to make at least one of them. So, this is it. Really simple. I was also happy to get these photos scrapped as I almost threw them in the bin. I was a bit wondering about the orange alphabets for this layout, but they don't look too bad! It is Mordialloc pier in these photos.
Tässä vielä se luonnos:
Here is the sketch: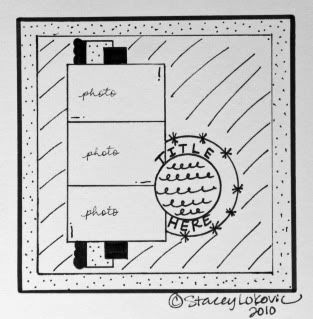 ----------------------